GYM
At fitness9 we are a committed team, certified and adept to help our clients reach their fitness goals. We offer cardio and weight training for the benefit of our clients. Cardio training can provide several benefits. It helps to increase the strength of your heart and lungs. Cardio can help you improve your endurance during workouts as well. However the main reason people do cardio is to burn calories to help them lose weight. Weight training helps to loose body fat, build muscle and improves metabolism and helps in reducing stress.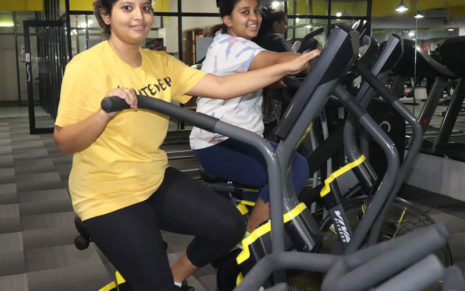 Cardio
We develop programs as per our client's requirement and instruct them in their respective gym sessions to achieve their goals. Keeping the age and physical condition and requirement of an individual we assist them on different equipment ranging from treadmill to elliptical trainer. We also help the individual to cope with desired intensity of work out under our supervision.
Weights
Weight training is a common type of strength training for developing the strength and size of skeletal muscles. It utilizes the force of gravity in the form of weighted bars, dumbbells or weight stacks in order to oppose the force generated by muscle through concentric or eccentric contraction. Weight training uses a variety of specialized equipment to target specific muscle groups and types of movement. We assure our role in pushing your physical limits and discovering new possibilities.
Our Wet Area
The times we live in make us want to escape into another world, even for a short period of time to escape daily tenor. This urgent need to "get away", especially in cities like Hyderabad is becoming an increasing reality. In order to help you rejuvenate we provide you spa facilities in our premise which includes:
Massage
Massage therapy may help the body in many ways. Massage can relax muscle tissue, which may lead to decreased nerve compression, increased joint space, and range of motion. Massage therapy may also improve circulation, which enhances the delivery of oxygen and nutrients to muscle cells and helps remove waste products.
Steam bath
Steam bath will help in blood circulation, improved circulation will help in reducing blood pressure and healthier heart. Steam baths are popular for healing broken skin tissues.
Also shower facility and locker facility is available for ladies and gents separately.