THAT OFFERS
YOU MORE
A PLACE
With a dream of seeing a healthy Hyderabad, Fitness9 started as a small unit on 10/10/10. This day we stand in the position of training a significant number of clients and making them fit. A Fitness Lover himself, Mr.Chikka Srinivas, the founder of Fitness9 a Gunrock Enclave Gym, is certified by Reebok as a personal fitness trainer. His passion for educating people in fitness and Body maintenance made him start the Fitness9 Gym. Fitness9 provides various fitness programs throughout the day. The client can walk in anytime and sweat it out.
Fitness9 Gym offers many programs such as- a 15kgs Weight loss program, personal training, health recovery, and strength training, Home personal training, Online (Virtual) Training, Kids Athletic Training, and Zumba Dance. These can be easily adapted by all ages.
Other Additional Services are- Sangeet Choreography, Virtual rehearsals, Rehearsals Studio booking & Nutritional guidance.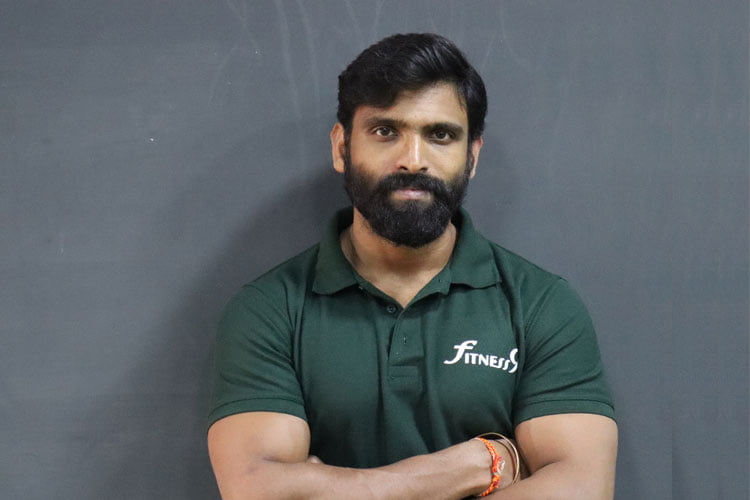 Indoor Ambience
Fitness9 believes in happy workouts which make our clients appreciate us.
We provide a facility that promotes physical activity, provides a safe, functional, and comfortable workout environment, and creates a pleasant and enjoyable atmosphere for recreation and socialization.
We are well-equipped with brands like Cybex, Precor, Eagle, SL-Series etc with a complete range of workout equipment, from cardio machines to stretch trainers, modular stations and more.
We maintain our overall gym environment clean and peaceful resulting in a happy mood set and concentrate more on our workouts with rejuvenating music to tone your muscles.
As a result, today Fitness 9 is one of the best & biggest gyms in Hyderabad and Secunderabad.
Outdoor Training
Throughout your fitness journey at the gym, FITNESS9 also plans and encourages outdoor fitness activity such as- marathon fitness training, bootcamp training, 5k and 10k run etc to build immunity, boosting mental health, relieving Stress & access to cleaner air.
It helps in burning calories, increasing strength, boosting confidence, improving aerobic endurance, aid coordination, changing lifestyle outlook and motivating long-term health.
Fitness9 is the biggest, safest and well equipped gym in sec-bad which has grown with more spacious environment.
Fitness9's complete range of workout equipment in- houses top high end brands like cybex, precor, eagle, SL-series etc from cardio machines to stretch trainers, modular stations and many more which are easily accessible to every client.
Fitness9 trainers are also professional national level athletes who bring necessary expertise and knowledge.
Fitness9 aims in providing trust-worthy, result- oriented and diverse services to cater to every age group of client's individual requirements.
WHAT CLIENT'S SAY
Clients of Online training
Kamakshi Aggarwal
Fitness 9 gym provides an amazing and energetic environment! The workouts are very well designed and provide excellent training covering all aspects of cardio, intense functional training and nutritional advice. I myself, a personal client of Mr. Chikka Srinivas sir, is immensely grateful to sir in helping and motivating me in my transformation journey here at fitness9. I am really happy and glad to be a part of fitness9 and i highly recommend to everyone looking for a stress free workout environment.!
M.Aditya
For someone who has traveled half of the world and regularly tries to keep fitness levels high, I know what I am writing here. Easily in the top 7. Honorable mention, management makes sure that the gym is operational even on festivals and holidays: fitness is important. Keep up the good work
Meghjit kaur
Fitness 9 has been amazing and I highly recommend it. Chikka Srinivas has set up a state of the art facility with tons of amenities and brilliant coaches. Most of the coaches here are national level athletes who provide injury free training. The environment created in this gym and the team is very positive. I have been taking personal training from coach Sanu for 2 months and this has by far been my best personal training experience. I have seen significant inch loss and muscle gain in such a short time. Plus, I saw multiple people in the gym with bad injuries like slip disk and osteoporosis in need of physio, walking back with renewed strength and energy.
Prashant Karthi
By far the best facility around. This place has the best equipment, and the facility is mind-blowing. From the ownership, to management, to the trainers, by far the nicest and most knowledgeable staff . I wouldn't hesitate to recommend Fitness9 to anyone. I am certainly satisfied
Sainath Jaganathan
Are You Looking For A Gym With Equipment And Professional Trainers? The Only Place You'd Never Regret To Join, Fitness 9, The Name Says It All. This Place Has Got The Best Of Best Facilities. From The Owner, Chikka Srinivas, To Management, To Profesional Trainers, By Far The Nicest And Excellent Personnel's.. I've Been Coming To This Gym For Several Years. Hygiene And Maintenance Are Outstanding! Trainers Do An Excellent Job. The Place And Other Equipment Are Sanitized And Well Maintained. I Personally Recommend Anyone, Regardless Of Any Age Group To Join This Gym And Have A Fantabulous Experience! Results Are Amazing!! You Definitely Have To Try Out This Place
Vasavi Upperu
It's been quite a long time since I joined fitness9. It has become my addiction now. All the trainers, specifically sanu and  srinivas, are so well trained and experienced that they guide you to work out to achieve our targets. Even the staff and the boys are so hardworking and well behaved. They always make sure that the whole gym premises and equipment are sanitized. I strongly recommend FITNESS9 GYM as a safe place for workouts. Stay safe keep exercising and Stay healthy