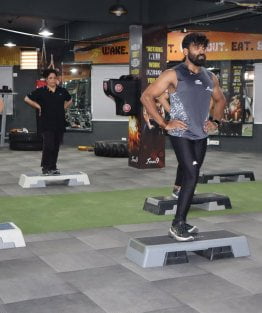 15 KGS WEIGHT LOSS CHALLENGE PROGRAM
When you are in a group atmosphere for a weight loss challenge, you'll likely experience these benefits:
A social and fun environment.
Accountability for exercising.
Less boredom with an exercise routine.
If you are currently overweight or obese, you may be able to lose weight to improve your overall health. Decrease in your weight can affect your health.
Losing weight can mean:
Decreased joint pain
Decreased risk of certain cancers
Decreased risk of diabetes
Decreased risk of heart disease
Decreased risk of stroke
Decreased risk or improvement in symptoms of osteoarthritis
Decreased risk or improvement in symptoms of sleep apnea
Improved blood sugar levels
Improved cholesterol levels
Improved mobility
Lowered blood pressure
Reduced back pain
PERSONAL TRAINING
Personal trainers can help to identify the best exercises and frequency to support people to reach realistic and achievable goals.
Working with a personal trainer can push one's fitness level forward much more quickly than working out on our own whether they be weight-loss based , sports driven or for athletic purpose:
Trainers provide accountability and motivation
Trainers provide expertise
A trainer will push you just enough
A trainer helps you identify and reach goals
A trainer will personalize your workout
Trainers reduce the possibility of injury.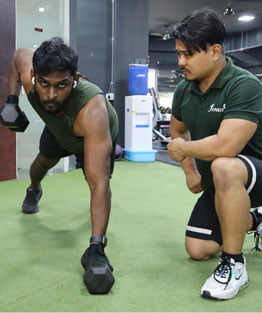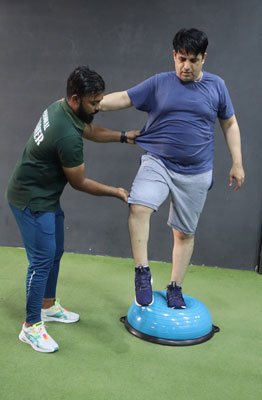 HEALTH RECOVERY AND STRENGTHENING
As more people recover from illness and other ailments across the country, many are facing another uphill challenge: rebuilding the physical strength and cardiorespiratory endurance lost over a period of time.
HEALTH RECOVERY AND STRENGTHENING becomes one of the most important aspects of the recovery process. It helps your muscles to repair themselves and also rebuilds strength, stamina and engages them for better results. Do not strain yourself but try to move as much as you can, as it will help your body to go back to its normal form.
Few benefits of health recovery training in dealing with various ailments:
DIABETES : Exercise offers surprising benefits. Not only does it lower your stress levels, it may also lower your blood sugar level and may even reduce your insulin requirements
PCOS/PCOD:Try and include exercises like brisk walking, jogging, cycling, HIIT to help tackle symptoms of PCOS. These exercises increase your body's response to insulin, reducing the risk of cardiovascular diseases and type 2 diabetes. You'll definitely see a change in your weight and mental health.
THYROID : Incorporating exercise into your routine can help reduce thyroid symptoms like mood problems, trouble sleeping, and weight gain.
Back pain, knee pain , spondylitis, slip disc etc along with other problems/issues can also be treated effectively.
HOME PERSONAL TRAINING
Working out at home can be just as effective. While a gym provides a dedicated space, home workouts offer more flexibility and can be more efficient. It all depends on how you use your time and equipment to maximize your effort.
It is Especially beneficial for people who are new to exercise or who have jam-packed schedules, an in-home personal trainer is the way to go.
Some of the benefits are:
Saves time
Convenient
Privacy and comfort
No equipment needed
Expertise and motivation
Accountability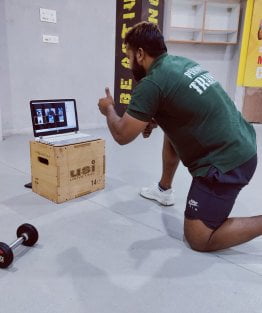 ONLINE (VIRTUAL TRAINING)
Virtual training is the next fitness revolution. It's convenience based fitness for clients to access a trainer or instructor online instead of commuting to a facility. It includes live training and coaching sessions offered in a variety of ways.
It is a rapidly growing type of training as it allows the budget-conscious individual a convenient way to work out.
Some of the features include:
Flexibility in schedule
Easy access
Affordability
Customized Workouts and diet plan.‌
KIDS ATHLETIC TRAINING
Physical activity and training have positive effects on both physiological and psychological aspects on the development of a child.
Positive effects include :
Improvement in sleeping habits
Limiting the risk of obesity
Limiting the risk of chronic disease
Reducing anxiety
Reducing depression
Promoting healthy bone growth and muscle development
As a child develops, vigorous physical activity along with muscle – strengthening activities should be encouraged:
Activities include :
Running
Jumping
Playing games
Sports etc.
Children should be encouraged to participate in activities that they are interested in and enjoy.
ZUMBA
Zumba is a dance fitness program that helps you lose weight, get back in shape, stay fit all while having loads of fun.
Dance and music can uplift our moods and have proven to be great stress-busters along with mind relaxation, stress management and physical activity.
Benefits of Zumba :
Provides a full body workout
Improves cardiovascular health
Builds endurance
Improves coordination
Assists metabolism
Zumba provides a fun and positive workout experience with options appropriate for almost all ages and ability levels.
GENERAL FITNESS TRAINING
General Fitness Training works towards broad goals of overall health and well-being. A regular moderate workout regimen and healthy diet can improve general appearance markers of good health such as reduction in stress, to feel better, a decreased likelihood of contracting many cardiovascular diseases, etc.